Falcon Model F is a 127 format candid viewfinder camera made by Utility Manufacturing Company, New York, USA and produced from c.1937.[1]
There are four models of the Falcon viewfinder cameras. They are similar to each other, except different lens and shutter combinations.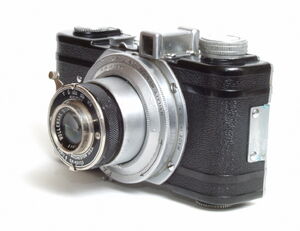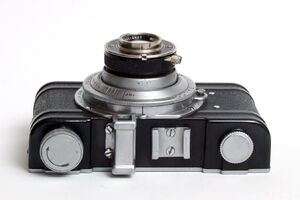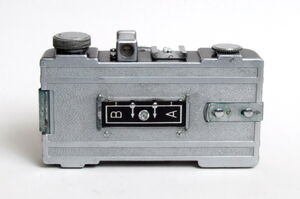 Specifications
Edit
Film: roll 127 film, picture size 3x4cm with 16 exposures
Lens: Velostigmat 2 inch f/3.5 (Wollensak Optical Company Rochester,USA)

Aperture: up to f/22 setting: lever and scale on the lens-shutter barrel
Focus range: 4-25 feet +inf

Focusing: helicoid focusing, the focus locks at every distance mark that is engraved in the focusing ring. In order to turn the focusing ring it is necessary to push down and hold the small chrome button that is located on the side of the lens mount
Shutter: (Wollensak) Deltax, everset shutter, (self-cocking),

Speeds: 1/25-1/50-1/100 +B, setting: lever and scale on the lens-shutter barrel

Cocking lever and Shutter release: by the same lever, on the lens-shutter barrel
Cable release socket: on the lens-shutter barrel
Viewfinder: simple eye-level reverse telescopic optical viewfinder
Winding knob: on the top plate
Flash PC socket: none
Cold-shoe
Self-timer: none
Back cover: remeovable, opens by a latch on the right side of the camera, w/ Two red windows and built-in lid
Film loading: special spool mechanism
Tripod socket: ¼"
Camera leg: retractable, below the lens mount
Strap lugs
Body: Neilite (similar to Bakelite) and helical lens mount, and back cover heavy cast-metal
Weight: 540g
Serial no. none
Notes and references
Edit
Community content is available under
GFDL
unless otherwise noted.