Falcon Miniature and Falcon Deluxe Miniature are medium format film half frame viewfinder like box cameras made by the Utility Manufacturing Company, NewYork, USA and produced in c.1939. [1]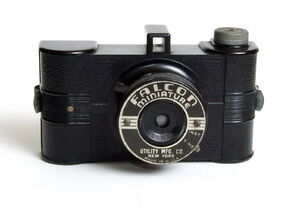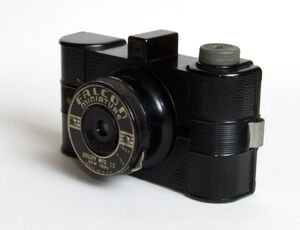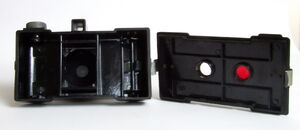 The body was made of Bakelite, and styled like the 35mm Argus A.
Similar cameras were sold as the Carlton, Falcon Midget, Falcon Minette, Rex Miniature, and others. Different body moldings, lenses and faceplates, and viewfinder styles all appeared under the Falcon Miniature name.
The Falcon body style of the version in the photos at right hand (with horizontal ribbing) is a clear design inspiration for the Lomographic Sprocket Rocket.
Data belongs to the version in the photos at right hand.
Film: roll 127 film, picture size: half frame, 3x4cm
Lens: Graf 50mm, serial no. none

Aperture: fixed aperture f/
Focusing: fixed focus

Shutter: simple spring rotary shutter, one speed 1/25 +B; setting: Time and Instant, lever on the lens-shutter barrel
Cocking lever and shutter release: by the same lever, on the lens-shutter barrel
Viewfinder: simple optical finder
Winding knob: on the top plate
Flash PC socket: none
Cold-shoe: none
Self-timer: none
Back cover: removable, w/ two red windows; opens by the latches on the sides of the camera
There is a spare film compartment in the camera
Tripod socket: none
Strap lugs: none
Body: Bakelite; Weight: 148g
Serial no. none
Community content is available under
GFDL
unless otherwise noted.