FED-10 type 3a c.1967 image by Süleyman Demir (Image rights)
FED-10 is a 35mm film rangefinder camera made by FED and produced between 1964-67 with quantity 23911 units.
This is a semi-automatic camera. It has a strange shape as it is very tall for its' height. This camera has a leaf shutter and a removable back. The film speed is set on a dial on the top deck which has a metering window next to it for manual operation.
There are four types and one sub-type as to Alexander Komarov in Fotoua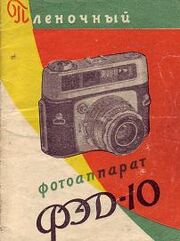 Series of camera Atlas [1]
Lens: Industar-61 52mm f/2.8 filter slip-on
Aperture: f/2.8-f/16 setting: ring coupled with the speeds ring , manual possible by pressing the un-locking knob on the lens-shutter barrel
Focus range: 0.9m-20m +inf
Focusing: match the rangefinder images in the finder by turning the front focusing ring on the lens, distance and DOF scales on it
Shutter: leaf shutter, speeds: 1-1/250 +B; setting: ring coupled with aperture ring
Cocking lever: also winds the film, on the back of the top plate, long stroke
Shutter release: on front of the camera, w/cable release socket
Frame counter: window on the bottom plate, auto reset, advance type
Viewfinder: coupled viewfinder/rengefinder
Exposure meter: Selenium cell exposure meter

Film speed range: 16-250 ASA, setting: dial on the top plate
Exposure setting: centered the needle in window on the top plate by turning the aperture/speeds ring

Re-wind knob: on the left of the top plate
Re-wind release: knob on the bottom plate
Flash PC socket: on front of the camera
Cold-shoe
Self-timer
Back cover: opens by a latch on the right side
Tripod socket: 3/8"
Strap lugs: none
Body: metal; Weight: 750g
Community content is available under
GFDL
unless otherwise noted.