Ernemann Bob V is a medium format film folding bed camera manufactured by Ernemann and produced between 1924-26. It belongs to the Ernemann Bob series of cameras. [1]
See also the article Ernemann Bob series.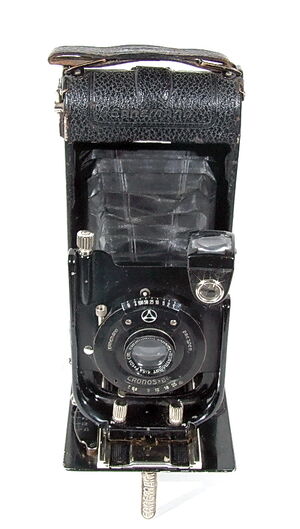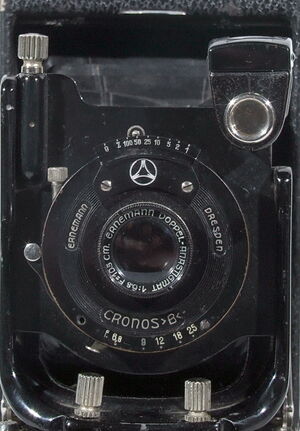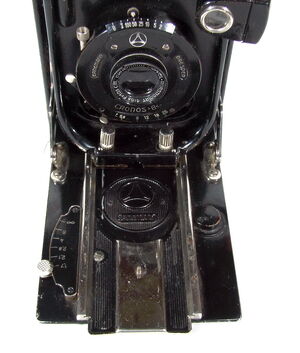 Specifications
Edit
Data belongs to the camera shown in the photos.
Embossing on front of the camera: Ernemann
Lens: Ernemann Doppel Anastigmat "Vilar" 105mm f/6.8; filter: slip-on [3]

Aperture: f/6.8-f/25, no click stops
Setting: lever and scale on the lens-shutter barrel
Focus range: 1.7-8m +inf

Focusing: bellows focusing, by a radial-lever; index, scale and lever on the right-inside of the front cover
Shutter: Cronos >B< leaf shutter; speeds: 1-1/100 +Z & O (T&B); Setting: lever and scale on the lens-shutter barrel
Cocking and Shutter release: by the same lever, on the lens-shutter barrel, manual shutter cocking and releasing on the same time, for the speed settings, by pressing once the lever, the diaphragm opens and closes
Cable release socket: on the lens-shutter barrel
Winding lever: on the right side of the camera
Viewfinder: Waist level Brilliant Finder on top of the lens standard, turnable 90 degrees left on its own axis for landscape pictures
Front shift: Bellows can bend over with a sliding part on the lens standard, vertical with micrometer screw
Front plate and bellows opening: first pull the front cover by using front cover leg of the camera, then pull the bellows forward by engaging its rails to the front cover mounted rails, then press the two jagged, knob like chrome handles on front of the lens rails to inwards simultaneously, then pull out the bellows as far as reaching to the focus scale; Closing: simply pull in the bellows as far as it goes, than push to inward the struts
Flash PC socket: none
Self-timer: none
Back cover: hinged, w/ red window, opens by a latch on the top back of the camera
Engraving inside of the front cover: Ernemann
Tripod socket: 3/8", two, on the bottom and right sides of the camera
Lugs for hand grip
Body: metal; Weight: 605g
Notes and references
Edit
↑

It was offered with other formats also.

↑

There are many lens/shutter combinations of the camera.
Community content is available under
GFDL
unless otherwise noted.