Druh Syncro is a medium format film viewfinder-like box camera made by WZFO (Warsaw Photo-optical Works = Warszawskie Zakłady Fotooptyczne), Brzozów, Poland and produced between c. 1956–60. Druh means Friend.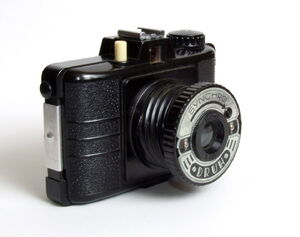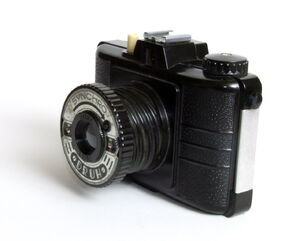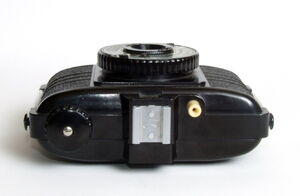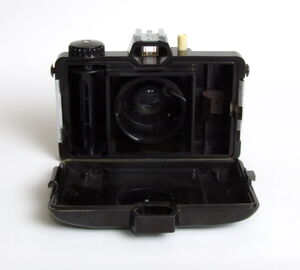 Druh wasn't an original Polish construction. It was a direct descendant of the Pouva Start, WZFO redesigned and more similar to the Yunkor from KMZ. Druh cameras had several finishes in their production time. Druh Synchro is a modernized version of Druh with accessory shoe and pc socket for a flash gun connection. There are also some cosmetic variations.[1]
WZFO logo on the cold shoe
Film 120 roll, picture size 6×6 cm, and 4.5×6 cm with a mask
Lens: Bilar 65 mm f/1.8 periscope collapsible screw tube, filter thread
Aperture: f/8 and f/16; setting: by a lever on front of the lens
Focusing: fixed focus
Shutter: simple spring rotary shutter, one speed 1/50 +B ; setting: by a lever on front of the lens, B and M (instant) , with synchro contact
Cocking and Shutter release: by the same knob, press and release; on the top plate, with cable release socket
Viewfinder: Optical reverse telescopic finder
Winding knob: on the top plate
Flash PC socket: on front of the lens-shutter barrel
Cold-shoe
Self-timer: none
Back cover: removable, opens by a latch on the right side of the camera, with two red windows for 6×6 and 4.5×6
Tripod socket: 3/8"
Strap knobs
Body: bakelite; weight: 313 g
Community content is available under
GFDL
unless otherwise noted.