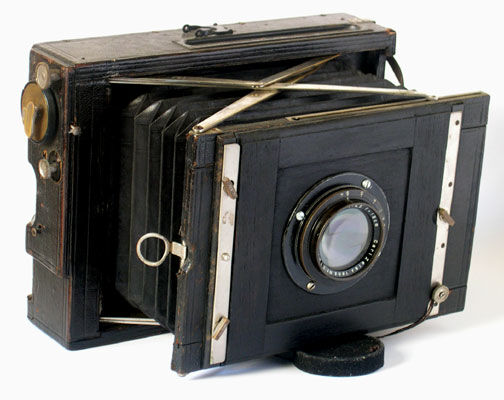 Deckrullo-Nettel is a series of strut folding plate film press camera, manufactured by Contessa-Nettel AG, and produced between 1919-26.
It is the continuation model of the 1909-19 Nettel Kamera-werke model; continued after 1926 by Zeiss Ikon till 1938.[1]
The Deckrullo was one of the most popular of the 'press' camera designs of the pre-1940 period.
The camera was originally made by by Suddeutsches Camerawerk Korner and Mayer, in Sontheim am Neckar, Germany, in 1903. This company was renamed in 1909 as Nettel Kamera-werke, known as the name Nettel and later as the Deckrullo. Dr.August Nagel bought this firm in 1919 and merged with his company Contessa Kamera-werke. Later the firm renamed as Contessa-Nettel AG. Camera was continued in production after the merger. And following the founding of Zeiss-Ikon the camera was adopted as that company's 'press' camera model.
Nettel Kamera-werke was specializing in folding plate cameras. One of the company's specialties was its wide range of stereo camera models.
Another specialty were cameras with focal plane shutter named Deck-Rouleau. Under Contessa-Nettel the camera was call Deckrullo-Nettel, but after Contessa-Nettel merged with Ernemann, Goerz and Ica to form Zeiss Ikon in 1926 then it reverted to it's original Nettel name.
The name Deckrullo means "covering roller-blind". In 1932, this focal plane shutter used on Contax cameras with improvements but using the same basic shutter design.
During the Zeiss Ikon period the shutter dial was re-designed and simplified and more lens options became available.
The standard model's catalog no.870 series
Formats: 6.5 x 9cm, 9 x 12cm, 10 x 15cm and 13x18cm. Also, there was 6 x 13cm and 10 x 15cm formats stereo versions
Lens: Zeiss Jena Anastigmat Tessar 15cm f/4.5, or Stylor-Russel and Flor-Berthiot
Vertically sliding lens standard a small degree
Shutter: vertically running cloth focal-plane,
Speeds 2 - 1/2800 +B&T; speeds limit depends to the film format, eg.9x12 and 10x15cm it is 1/2800, 13x18cm 1/1/2300, 6.6x9cm 1/1200
Shutter can be cocked not uncovering the film
Focusing: bellows focusing, via a knob which moved the lens standard in and out, focus scale on the top; also by ground-glass back
Body: wooden, covered with black leather, and a black painted wooden lens standard
Viewfinder: wire finder with peep-sight part
There was a plateholder for 12 plates for rapid change
Tropical version (871 series) was produced in all but the smallest size. Body was polished teak, with nickel re-enforcements on the corners, and had brown leather belows.
Community content is available under
GFDL
unless otherwise noted.