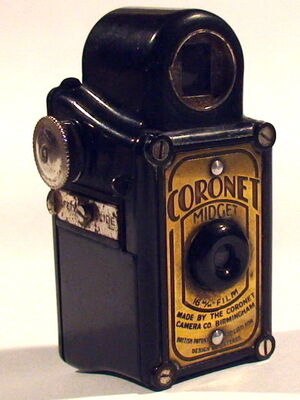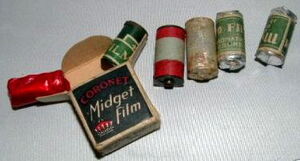 Coronet Midget is a subminiature 16mm film camera made by Coronet in England, and produced between 1934-43.
The camera was very cheap that used as a gift in cereal packets. But they say that "In every way a real camera and not just a novelty or toy". Midget was very small as a match box.
16mm film was used in Kodak 110 film cartridges for later subminiature cameras.
Some features of Midget
[
]
Film: 16mm roll, 6 exposures, picture size 13x18mm
Lens: Taylor Hobson meniscus type, f/10
Focusing: 5 feet to inf.
Shutter: simple spring rotary shutter, one speed 1/30
Film winder: in two variations, a folding D shape lever or a knob
With or without the film pressure plate
Body: bakelite, with seven different colour variants,
Front plate: brass or nickel coloured; The stampings on the name plate also varies
Weight: 71g
Coronet Cameo
[
]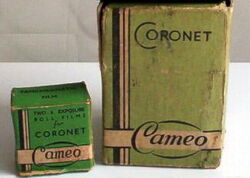 The Coronet Cameo was a post-war attempt to recreate the success of the Midget. It was very cheap and very small as half finger.
Produced between 1948-52
Film 16mm roll and picture size 13x18mm
Fixed focus f/11 lens
One speed rotary shutter, 1/25
Links
[
]