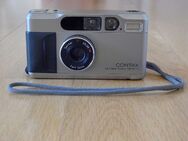 Released in 1990, The Contax T2 was the second of the Contax T series of high-end compact film cameras targeted at the professional and luxury consumer markets. The Contax T2 was offered in in champagne silver, black and gold plated finishes.
The Contax T2 was renowned for its Carl Zeiss T* multi-coated Sonnar 2.8/38 lens comprising 5 elements in 4 groups and user friendly controls. While it offered full automation, including Autofocus and Program AE, the Contax T2 was one of the most readily user-controllable cameras of its era, featuring Aperture Priority AE selection on a dial on the retracting lens body, and manual focus on a thumb dial. Exposure compensation of +/-2 EV in 1/2 EV steps is controlled by a dial at the top left and the EV compensation is given in a small window. Shutter speed and focus lock confirmation is given in the viewfinder.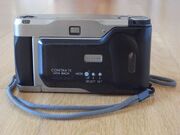 Contax T2 Major Specifications
Film
35mm (135 cartridge)
DX ISO 25 - 5000


Non-DX default ISO 100

Lens
Carl Zeiss T* Sonnar 38mm F/2.8
Aperture
F/2.8 - F/16
Shutter Speed
8s - 1/500s
Exposure Compensation
+/-2 EV in 1/2 EV steps
Flash

Builty-in only
Anti-red eye preflash option
Range 0.7m - 3m at lSO100
Recycle 3.5s

Battery
1 x 3V CR123 or equivalent
Size

Width 119mm x Height 66mm x Depth 33 mm
295g without battery
Competitors
[
]
The Contax T2's closest rival was the Leica Minilux. It is of a similar specification, design philosophy, size and weight.
Quirks
[
]
The Program AE mode is the same setting as Aperture Priority F/2.8. Therefore, the camera cannot be shot wide-open unless the exposure level demands it.
Flash can only be used in Program AE mode.
Like the Contax T before it, the Contax T2 lacks an accessory/hotshoe.
The viewfinder can be used with both eyes open, but it is hard to use while wearing glasses.
Links
[
]