Chaika-II type 1a, c.1968 image by Süleyman Demir (Image rights)
Chaika II is a half-frame 35mm film viewfinder camera made by MMZ, after 1971 made by Belomo and produced between 1967-72 with quantity of 1.250.000 units. Chaika (Чайка) means Seagull.
Chaika was the call sign of the first Russian female cosmonaut, Valentina Vladimirovna Tereshkova. She became extremely famous for her achievements and is still considered a hero in Russia. It's very likely that this line of cameras were at least partly named in honor of her. Her famous flight took place 1963 and the first Chaika camera was sold in 1965.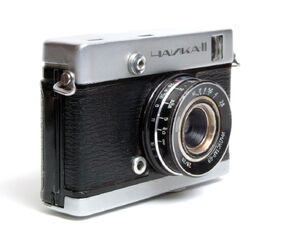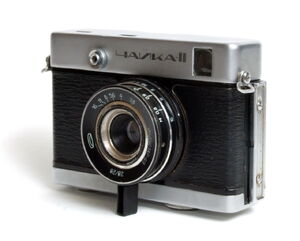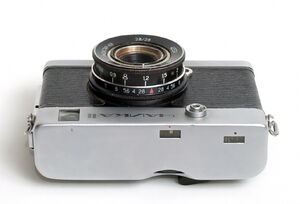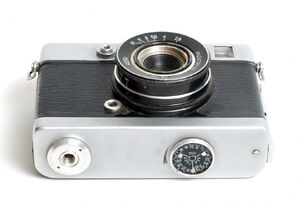 The difference between Chaika-I and Chaika-II is added a removable screw mount lens which could be used as the lens for an enlarger that was apparently never made available. The threads are the same as those for a Leica lens, but the focusing distance is different, so the lenses are not compatible.
There are 6 types and 9 sub-types of the Chaika-II [1]
Picture size 18x24mm
Lens: Industar-69 (ИНДУСТАР) 28mm f/2.8 filter slip-on serial no.none

MMZ logo on the lens
Aperture: up to f/16; setting: ring and scale on front of the lens
Focus range: 0.8-5m +inf

Focusing: manual front cell focusing; ring, distance scale with symbols and DOF scale on the lens shutter barrel
Shutter: leaf shutter; speeds: 1/30-1/250 +B; setting: by a ring and small window on the top-plate
Shutter release: on front of the top-plate, w/cable release socket
Cocking lever: also winds the film, short stroke, on the back of the top-plate
Frame counter: additive type, auto-reset, window on the top-plate
Viewfinder: reverse telescopic finder, vertical quadrangle
Re-wind knob: on the bottom plate, pull out and turn to arrow direction
Re-wind release: by re-wind knob
Flash PC socket: on front of the camera
Cold-shoe: none
Memory dial: on the re-wind knob
Self-timer: none
Back cover: opens by a latch on the right side of the camera
Tripod socket: ¼"
Strap lugs
Body: metal; Weight: 388g
Serial no. in the back cover
Chaika-II type 5b (export type) image by Siim Vahur (Image rights)
At www.collection-appareils.fr
Community content is available under
GFDL
unless otherwise noted.