Cero-Phot is a medium format viewfinder like box camera manufactured by Certo Kamera Werk (Gönna & Söhne), Dresden, former Eastern Germany and introduced c.1958. The camera is little more than a box camera with its simple meniskus type lens . Certo-Phot is an evolution model of Certina.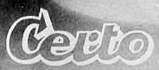 Film: roll 120 film, picture size 6x6cm
Lens: simple meniscus type, Achromat 75mm f/8
Aperture: holes on sliding disc, f/8 and f/11
Focusing: zone focusing via the ring on the lens, scale for flash distance and aperture
Focus range: 1.5-10m +inf.
Shutter: one speed, spring loaded rotary shutter, bulb (B) and moment (M) around 1/50
Shutter release: on the right of the top plate w/ cable release socket
Vievfinder: simple reverse telescopic finder
Winding knob: on the left of the top plate, with double exposure prevention
Flash PC socket: on the front barrel
Cold-shoe
Back cover: removable, w/ red window, opens by a latch on the left side of the camera
Tripod socket: 1/4"
Body: metallic
Strap lugs
Community content is available under
GFDL
unless otherwise noted.