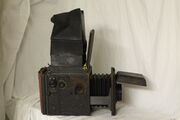 W. Butcher and Sons Ltd. was a British camera maker, formed as a pharmacy business by William Butcher in Blackheath in 1887. Photographic items were manufactured from c.1897 by sons of William, W.E. & F.E. Butcher. The name "Primus" seems to belong to this early company.[1]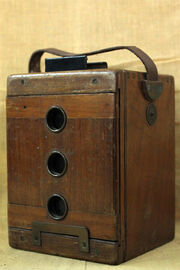 A headquarters at Camera House, Farringdon Avenue, London EC has been set up by February 1902. Whilst manufacturing some of their own stock, much came by other makers, such as Hüttig and Ica in Germany.
In 1914, war prevented Butcher's German imports, and they joined forces with Houghton in 1915 to form theHoughton-Butcher Manufacturing Co. Ltd. The two companies continued to sell their own brands until their full merging on 1 January 1926 to form Houghton Butcher (Great Britain) Ltd., which became Ensign Ltd. in 1930.[2]
Butcher's cameras
Edit
Cameo Minimum
Cameo Stereo, no.s 1, 2, 3 and 4
Cameo Speed
Carbine
Clincher
Coronet no.s 1 & 2
Dandycam
Domino
Empire
Excelsior
Klimax mod.I and mod.II
Little Nipper (c.1900); (a rebadged Gnom {1901}; Aviso, {1907}); the Japanese Cherry is based on these.
Little Nipper (c.1922)
Butcher's Maxim - no.s 1, 2, 3 and 4
Butcher's National Field Camera
Patria
Pilot (Folding Plate), no.s 2, 3, 3A and 4
Pom-Pom
Popular Pressman
Quarter Plate Cameo (c.1910)
Reflex Carbine
Sportie Carbine
Stereolette
Watch Pocket Carbine
Watch Pocket Klimax

No. 1, 2, 3, 4 and Popular models

Butcher's Royal Mail Stamp Camera (3 lens & 15 lens)
Primus Coronet No.1 and No.2 quarter-plate camera
Primus So-Li-To
Bibliography
Edit
*

Links & Sources
Edit
Cite error: <ref> tags exist, but no <references/> tag was found