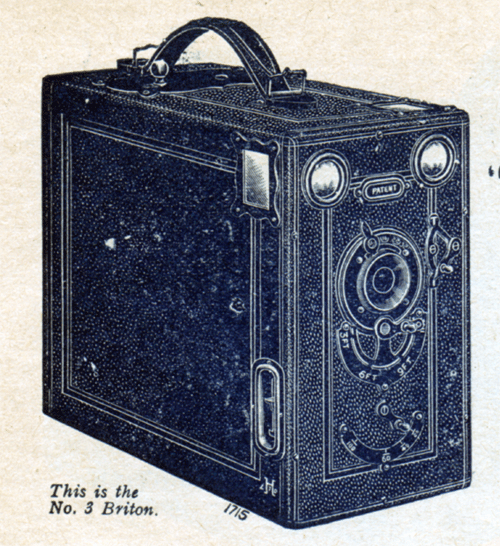 The Briton was a medium format falling plate box camera, made by Houghton's in London, England, c.1909.
Specifications
Edit
Film: Plates 6x9cm or 8x10cm
Lens: Cooke, or Rapid Aplanat, rotating stops, focusing scale
Shutter: ever set, one speed, instant and time
Viewfinders: two brillinat finders, automatic frame counter and two portrait lenses for portraits at 90cm and 180cm
Body: aluminum, covered in the finest morocco leather with nickel fittings
The no. 2 has a divided back for removing exposed plates without interfereing with unexposed ones, three portrait lenses. No. 3 has a better achromatic lens and two real brilliant finders.
There were four models:[1]
Briton No.1 - 6 plates 6x9cm
Briton No.1a - 12 plates 6x9cm
Briton No.2 - 6 plates 8x10cm
Briton No.3 - 12 plates 8x10cm
Notes and references
Edit
↑ McKeown, James M. and Joan C. McKeown's Price Guide to Antique and Classic Cameras, 12th Edition, 2005-2006. USA, Centennial Photo Service, 2004. ISBN 0-931838-40-1 (hardcover). ISBN 0-931838-41-X (softcover). p.394-95