Beirette (1963) is a 35mm film viewfinder camera made by Beier and introduced in c.1963. It is in the long lasting Beier Beirette series.
Its lens plate is symmerically rounded on the bottom. It has new wedge shaped shutter release on the side of the lens plate. The former shutter release is now the cable release socket. Shutter release button is metal with leatherette inset. It was also sold as Revue 35N by Foto-Quelle. [1]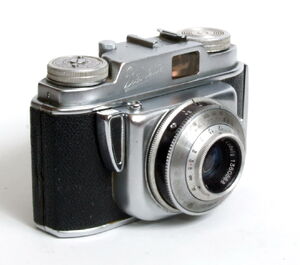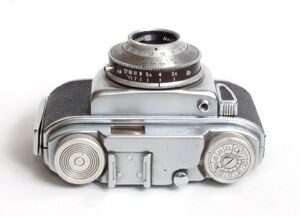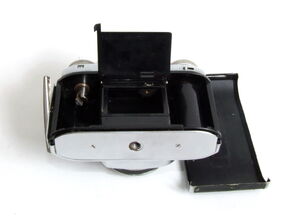 Lenses: Meyer Trioplan 45mm f/3.5 or Ludwig Meritar 45mm f/2.8; filter slip-on

Aperture: up to f/22 setting: no click stops, ring and scale behind the lens
Focus range: 0.6-8m +inf

Focusing: front element focusing, manual, guess the distance, ring, scale and DOF scales on front of the lens
Shutter: GW[2] Junior II three speeds everset 1/30,1/60,1/125 +B; setting: indented ring and dial on the lens-shutter barrel
Shutter release: on the right side of the lens mount, double exposure prevention, pressing it cocks and releases the shutter
Cable release socket: separate from the shutter release, on top of the lens flange
Winding lever: short stroke rapid advance, on the right of the top plate,
Frame counter: decreasing type, auto reset, window on the back of the top plate, not works without film in the camera
Viewfinder: reverse telescopic finder, parallax correction for N (normal) and infinity by slightly sliding the eyepiece
Re-wind knob: on the top plate
Re-wind release: on the back of the top-plate, set T or R
Flash PC socket: on the lens-shutter barrel
Cold-shoe
Memory dial: on the winding lever knob
Self-timer: none
Back cover: removable, opens by a latch on the right side of the camera
Film loading: shutter not works if no film in the camera, hinged film pressure plate
Tripod socket: ¼"
Strap lugs: none
Body: metal; Weight: 356g
↑

The "GW" is the Logo of "Gebrüder Werner" (Werner brothers), a shutter manufacturer and supplier of the Dresden camera industry. They produced also "Priomat" shutter
Community content is available under
GFDL
unless otherwise noted.