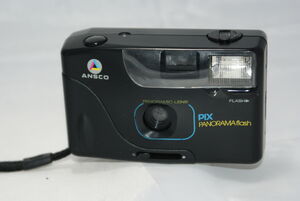 The Ansco Pix Panorama flash is an all plastic body point and shoot 35mm film camera. The lens cover/shutter release lock/unlock button is operated by a single sliding switch. On/off flash switch is separate.
Type: Point and shoot
Films: 35mm ISO 100/200/400
Frame format: 13 X 36mm
Print size: 3.5 X 10in. (89 X 254mm)
Film advance: Thumbwheel
Frame counter: Upward (analog)
Film rewind: Push button release-rewind crank
Focusing: Fixed
Focusing range: daylight- 1m (3ft.) to infinity
Flash: Built-in electronic flash with ready light
Flash range:
ISO 100/1m (3ft.)-2.5m (8ft.)
ISO 200/1m (3ft.)-3m (10ft.)
ISO 400/1m (3ft.)-3.7m (12ft.)

Power source: Two AAA alkaline batteries
Write the second section of your page here.
Community content is available under
GFDL
unless otherwise noted.