Jurassic World: Dominion Dominates Fandom Wikis - The Loop
Play Sound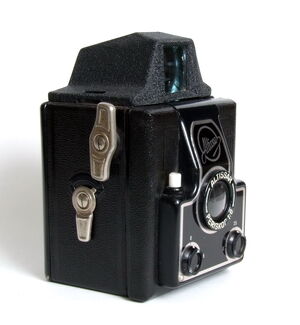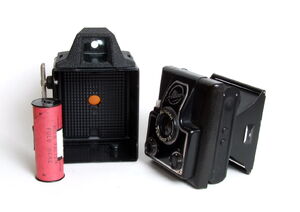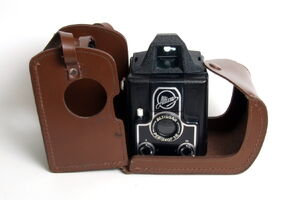 Altissa Box is a medium format box camera made by Eho-Altissa and introduced in 1951.
The Altissa Box was a nice new variant of Altissa's characteristic line of box cameras. It was launched one year before the company became the state-owned VEB Altissa Camera Werk.
It uses 120 roll film and picture size 6x6cm. Two flat knobs below the lens were the controls for aperture and shutter mode. Other than on common box cameras the possible settings are given as values: B and 1/25 sec. for the shutter speed settings, and f/8 and f/16 as possible aperture settings. The Altissar Periskop f/8 fixed focus lens is an even more uncommon feature since it consisted of a symmetric pair of single lens elements, with lens and shutter placed in-between. That decent kind of sophistication is enough to enable the camera to make better images than any cheap meniscus lens box camera. Last not least the camera construction is more handsome than average boxes, and very bright and large telescopic viewfinder is an advantage when compared to common box cameras' smaller finders.
Other features:
Shutter: simple spring rotary type, speeds: B and 1/25, setting: via a flat knob on the front plate
Cocking and Shutter release: by the same knob, white, on the front plate w/cable release socket
Winding lever: on the left side
Back cover: removable with camera box, w/ red window and built in lid; opens by a lever on its left side, before sliding the box pull-out the winding lever
Engraving on the back cover: Made in Germany
Tripod socket: 3/8"
Strap lugs
Body: metal; Weight: 291g
Serial no. none
Links
[
]