Solina is a 35mm film viewfinder camera made by Agfa and produced between 1960-62.
It is a name variant of Agfa Silette (1958 type 3), for distribution of in USA by Montgomery Ward. [1]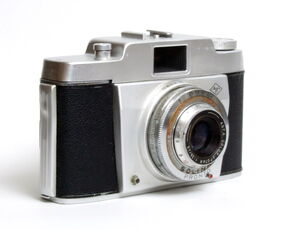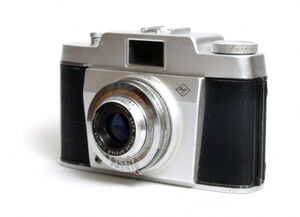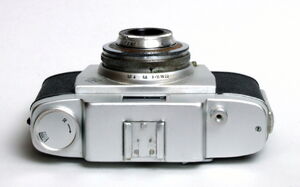 Lens: Agfa Color-Apotar 45mm f/3.5 filter slip-on serial no. none

Aperture: up to f/22
Focus range: 3.5-30 feet +inf

Focusing: manual front cell focusing, ring, distance and DOF scales on the lens
Shutter: Pronto, speeds: 1/25-1/200 +B
Shutter release: on the top plate, w/ cable release socket
Cocking lever: also winds the film, long stroke, on the back of the top-plate
Frame counter: manual reset, advance type, like thumb ring, on the back lower side of the camera
Viewfinder: Newton optical finder
Re-wind knob: on the top plate, pull out and turn
Re-wind release: on the bottom plate
Flash PC socket: on the front plate
Cold-shoe
Memory dial: on the re-wind knob
Self-timer
Back cover: hinged, opens by a latch on the left side of the camera
Engraving on the bottom plate: Made in Germany
Tripod socket: ¼"
Strap lugs : none
Body: metal; Weight: 383g
Serial no. on the back of the camera
Community content is available under
GFDL
unless otherwise noted.