Silette F is a 35mm film viewfinder camera made by Agfa and introduced in 1963. It belongs to the long lasting Silette series.
Silette-F is similar to Agfa Silette II but replacement of the cold-shoe by a built-in hinged flash-reflector with bulb AG-1 and no self-timer.[1] Agfa Silette Rapid F is the similar model for Rapid film cartridges.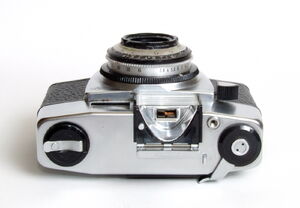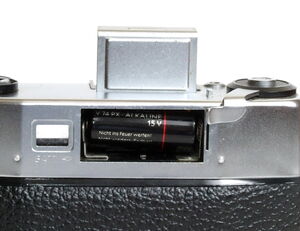 Specifications
Edit
Lens: Agfa Color-Agnar 45mm f/2.8 filter slip-on, serial no. none

Aperture: up to f/22 setting: ring and scale on the lens-shutter barrel
Focus range: 1-8m +inf

Focusing: manual front cell focusing, ring and distance scale with portrait, group and landscape symbols on the lens
Shutter: Prontor 125 speeds: 1/30-1/125 +B; setting : ring and scale on the lens-shutter barrel
Shutter release: on front of the camera
Cable release socket: on the top plate
Cocking lever: also winds the film, short stroke, on the top plate
Frame counter: manual reset, decreasing type, on the right side of the camera
Viewfinder: bright frame finder
Re-wind lever: folding crank, on the top plate
Re-wind release: a small knob beside the cocking lever
Built-in bulb AG-1 flash unit, on the top plate, with a hinged reflector
Battery for flash: one 15V Varta Pertrix No.74 battery, (There was a Varta Photo Spezial V 74 PX 15V battery in the chamber of this camera)

Battery compartment: on the back of the top plate with a plastic lid that have an exposure table

Flash PC socket: none
Cold-shoe: none
Self-timer: none
Back cover: removable with the bottom plate, opens by a latch on it
Engraving on the bottom plate: Made in Germany
Tripod socket: ¼"
Strap lugs: none
Body: metal and bakelite; Weight: 342g
Serial no. on the right side of the camera
Notes and references
Edit
Community content is available under
GFDL
unless otherwise noted.