Moto-Rapid C is a 35mm film viewfinder camera made by Agfa and introduced in 1968.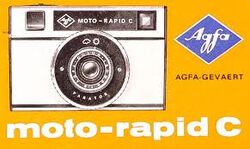 The camera is an evolution of Iso-Rapid. The camera takes Agfa Rapid film. It has a spring driven winding mechanism (motor) which was not common on this type of cameras. It arms with turning the lens, then it takes 16 frame without re-arming. The shutter is Parator two speeds, and the lens is Agfa Color-Isomar. It is perhaps the rarest of Agfa Rapid nowadays.
Community content is available under
GFDL
unless otherwise noted.