Isoly is a series of medium format viewfinder film cameras made by Agfa and produced between 1960-71.
These cameras use 120 film for 16 frames of 4x4cm, the reduction of 6x6cm. Also, diapositive films can be used. The different models are distinguished by their lens & shutter specifications. They also offered with different lens options also. Isoly, later renamed Isoly I was the basic model.
The Isoly name used again in 1980s for a 35mm camera as Agfa Isoly 100.
Isoly (original)
Edit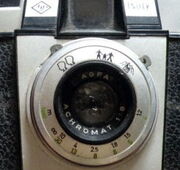 Introduced in 1960
Later cameras have the name Isoly I
There is a version with distance symbols with meter scale
Lens: Achromat f/8, (f/11 aperture opening is possible)
Shutter: everset leaf shutter with speeds 1/30 and 1/100 +B
Film guidance is bent for exact sharpening of the photos
Isoly was the model of the plastic toy camera Diana which has become, in the meantime, a cult.
Isoly Junior
Edit
Introduced in 1961
Cameras have the name Jsoly. The meaning of Jsoly: A long period in the past the "J" was synonymous with the "I" in German- but only in upper case letters.
Also known as Isoly 0 in UK only and as "Isoly Junior" everywhere else.
Meniscus lens f/11 and one speed shutter
Shutter release on the lens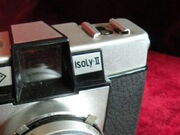 Introduced in 1960
Later cameras have the name Isoly II
It was differed from the Isoly I by the better optics, eg. Color-Agnar 55mm f/6.3, (f/11 aperture opening is also possible)
Film guidance is not bent anymore
Isoly IIa
Edit
Produced between 1963-71
Same with Isoly II but with Color-Agnar 55mm f/5.6
Indeed, the most significant difference is in the Isoly label, that says "Isoly IIa"
Isoly III
Edit
Introduced in 1960
Some cameras have the name Isoly III
It was the top-of-the-line model of the Isoly series.
Shutter: Prontor S with speeds 1/30-1/250 +B
Lenses: Agnar or Apotar 60mm f/3.9
Double exposure prevention
Self timer
Isoly IIIa
Edit
Similar to Isoly III but with Color-Agnar 60mm f/3.5 lens in a Prontor shutter 250S
Isoly-Mat
Edit
Introduced in 1962
Similar to Isoly IIa but built-in automatic Selenium cell lightmeter below the lens front
Green signs indicates in finder indicates the correct exposure
Color-Agnar 60mm f/3.5 lens in single-speed shutter
Notes and references
Edit
On www.collection-appareils.fr
Community content is available under
GFDL
unless otherwise noted.