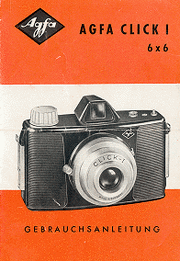 Click-I is a medium format film viewfinder camera manufactured by Agfa Kamerawerk AG, Munich, Germany and produced between 1958-70.
An inexpensive snapshot camera that makes photography really simple. If there is Clack there have to be Click also. Click could be considered as an evolution model of Clack (You can easily prove it by pronouncing "clack" and "click" definitely the sound goes upwards.) A new feature is an internal yellow filter, instead the close up lens in Agfa Clack. Body material is plastic and the shutter noise is civilized. [1]
The bent back cover plays a role as a film pressure plate and provides for a steady and good sharpness.
The other cameras in the Click line are 
Agfa Click-II
, Agfa Click III, Agfa Click IV and Agfa Click V.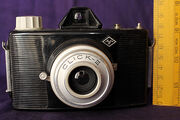 Specifications
Edit
Film 120 roll, picture size 6x6cm
Lens: Meniscus lens 72.5mm f/8.8 filter slip-on

Aperture: f/8.8 and f/11; setting: lever and cloudy and sunny setting icons on the lens-shutter barrel
Internal yellow filter: set to yellow dot

Focusing: fixed focus
Shutter: single speed rotary shutter, speed about 1/30
Synchronised for Agfa Clibo flash unit, attach buttons on the right of the top plate
Cocking lever and shutter release: by the same lever, on the lens-shutter barrel
Winding knob: on the top plate
Viewfinder: simple Galilei
Back cover: removable, w/ red window, opens by a latch on the left of the camera
Tripod socket: ¼"
Strap lugs
Body: plastic; weight: 183g
Serial no.: none
Notes and references
Edit
↑ from The Camera Site
2. giuong tang , sua cua cuon , son nha, sua dien nuoc
3. gemek tower ,
Community content is available under
GFDL
unless otherwise noted.