Agat 18K type 1c (1991) image by Süleyman Demir (Image rights)
Agat 18K is a 35mm film half frame viewfinder camera made by Vilejka for MMZ (Belomo), Minsk, Belarus (in former USSR), and produced between 1988-97. АГАТ = AGAT is a special name in Russian.
Camera identical to its predecessor, Agat 18 with some technical improvements. The camera is one of the smallest and definitely the lightest half frame 35mm cameras that you can buy.
There are two types and two sub-types of the camera.[1]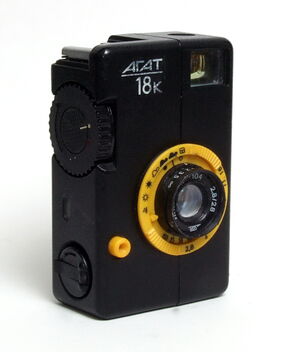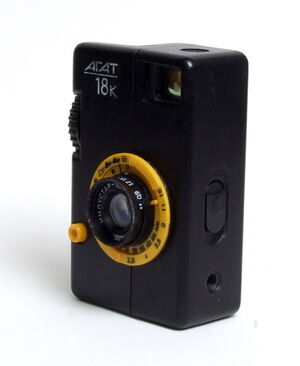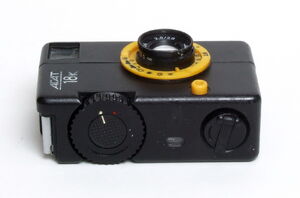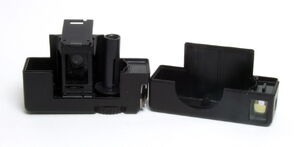 Vilejka logo on the lens
Frame size 18x24mm
Lens: Industar-104 (ИНДУСТАР), 28mm f/2.8, glass triplet lens, filter slip-on
Aperture: up to f/16
Setting: The camera is totally manual, though not in the typical sense, since it works only in a "mechanical program mode" were you first set the film speed and then just use the "sunny-16" icons on the front dial. The camera adjusts both aperture and shutter speed for a perfect exposure (it actually works quite well).
Film speed: ISO 25-1600, set via the inner ring beneath the lens
Focus range: 0.9-5m +inf
Focusing: manual front cell focusing
Shutter: leaf shutter; speeds: 1/65 -1/540 not written on the scale, instead there are weather symbols, set the ring as to the actuall situation of weather
Shutter release: on front of the camera, not works wo/ the film in the camera, w/ cable release socket
Cocking knob: also winds the film, double exposure prevention, on the left of the camera
Frame counter: auto-reset, additive type, window on the left side of the camera
Viewfinder: bright frame, w/ parallax correction lines
Re-wind lever: folding crank, on the left side of the camera
Re-wind release: a button on the winding knob, set to red dot
Flash PC socket: none
Hot-shoe: there was a cover on it
Self-timer: none
Back cover: removable, with the right side of the camera, opens by a latch on the right side
Tripod socket: ¼", also usable as a hand strap socket
Hand strap
Body: plastic, shutter compartment metal; Weight:132g
Serial no. first two digits show the production year, in the camera
Community content is available under
GFDL
unless otherwise noted.